May 2016 – The Rick Hansen Institute is honoured to announce we've received accreditation through Imagine Canada's Standards Program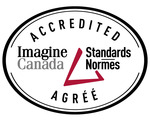 We're one of only 177 charities and non-profits to be granted this status, out of more than 170,000 charitable and non-profit organizations nationwide (85,000 of these are registered charities). The peer-reviewed Standards Program builds excellence within Canada's charities and non-profits through common standards of practice and to strengthen confidence in the sector.
RHI underwent a rigorous accreditation process, which required us to demonstrate that we were meeting or exceeding the 73 standards set-out as part of this program. These standards are focused into five key areas: Board Governance; Financial Accountability and Transparency; Fundraising; Staff Management; and Volunteer Involvement.
We are incredibly proud to be able to display the Imagine Canada Standards Program Trustmark as an emblem of RHI's dedication to best practices within the charitable sector. Our participation and recognition through this program gives our stakeholders in Canada, and around the world, continued assurance in supporting the work RHI does to improve the lives of individuals with spinal cord injury.
We are excited to share this achievement with you.
- Bill Barrable, Chief Executive Officer, Rick Hansen Institute
The Rick Hansen Institute is a Canadian-based not-for-profit organization committed to accelerating the translation of discoveries and best practices into improved treatments for people with spinal cord injuries. It does this by leading the collaboration of researchers, health care professionals, individuals with SCI and like-minded organizations across Canada and internationally. RHI has matched leadership and research collaboration with government funding to facilitate one of the largest interdisciplinary spinal cord injury research programs in the world.