The Research & Best Practice Implementation Newsletter is a bi-annual newsletter on the project-specific updates, publications and other RHI initiatives.
Inside this Issue
RHSCIR Enrollment
Better Assessment for Your Patients with SCI
RHSCIR New Zealand Site Opens
Access to Care and Timing Project
National SCI Meetings & RHSCIR Publications
Minocycline Study Commences in Australia
RHI Consumer Program Research Listing
Working2Walk Science & Advocacy Symposium
Network Member Publications
Upcoming Conferences
Independent Mid-Term Review
RHSCIR Enrollment

Cummulative enrollment in RHSCIR by Canadian Province as of 30 October 2014 (N = 4089)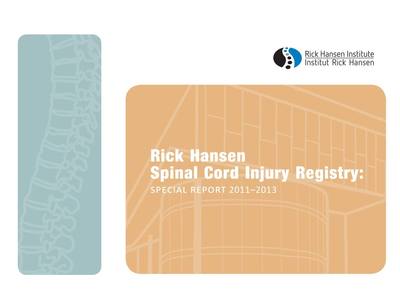 Coinciding with the launch of SCI2, RHI has also published the RHSCIR Special Report 2011-2013 which includes data on areas such as demographics, level and severity of injury, length of stay in acute and rehab care and social impacts post-injury such as income, marital status and employment. View the report here.
Better Assessment for your patients with SCI
RHI launches new clinical resource site
In October, RHI launched the website Supporting Clinical Initiatives in Spinal Cord Injury (or "SCI2").
This new site provides resources to help support clinicians' practice in the care of patients with spinal cord injury, including RHSCIR Assessment Toolkits, RHSCIR Reports and additional resources to help support integration of a new or modified practice. The site is open to the public, but a site login is required to access facility reports and other confidential information.
Resources were developed by experts from across the country and topic areas include neurology, pain, respiratory function, Spinal Cord Independence Measure (SCIM), skin integrity as well as standing and walking mobility. Also available are resources on sexual health after SCI and helping facilities achieve site accreditation as per Accreditation Canada's SCI Acute and Rehab Standards.
Visit SCI2 at sci2.rickhanseninstitute.org.
---
RHSCIR New Zealand Site Opens
RHSCIR launches international site at Burwood Hospital
The Burwood Spinal Unit (BSU) in Christchurh, New Zealand has become the first international site open for recruitment in the Rick Hansen SCI Registry.
The Burwood site is being championed by Rowan Schouten, a New Zealand trained orthopaedic surgeon specialising in the management of adult spinal conditions. Lead researcher and site coordinator is Tracey Croot (physiotherapist) who is supported by the BSU clinical team. While the data collected will remain largely the same as that of our Canadian sites, customizations were made to account for the differences between health care systems in Canada and New Zealand. Of particular interest, RHSCIR New Zealand will operate on an "opt-out" basis. This means participants' data will be automatically collected unless participants choose not to participate at which point a smaller minimum dataset will be collected.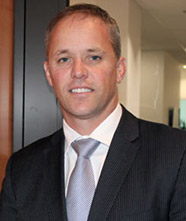 Rowan Schouten
"The Burwood Spinal Unit is excited and honoured to be working with the Rick Hansen SCI Registry team. RHSCIR is known worldwide as one of the most comprehensive repositories for information on traumatic spinal cord injury. Participating in the registry will allow us to conduct research that will contribute to our understanding of SCI care for the injured in New Zealand and around the world", said Schouten.
This comes on the heels of an announcement in April that RHI will be working with members at Peking University Third Hospital to establish a RHSCIR site in Beijing. This is part of RHI's ongoing activities to pursue international collaborations in order to identify and validate the most promising discoveries, and accelerate the translation of those discoveries into clinical practice. As we continue to partner with international sites, this information will contribute to how we can optimize and standardize treatments around the world so that eventually, anyone who receives a traumatic spinal cord injury will receive the same level of treatment, regardless of their geographic location.
BSU is now open for recruitment for the RHSCIR study and will enter data using RHI's Global Research Platform as part of a 12-month pilot project.
---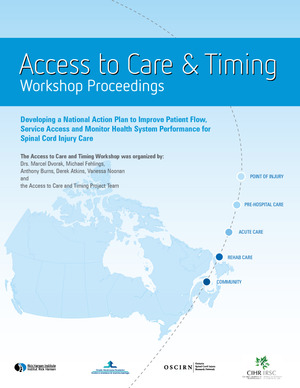 What is the ACT National Action Plan?
Vision: To optimize patient flow and access to services throughout the SCI continuum.
Objectives: To measure national health system performance and to monitor patient flow across the SCI continuum with appropriate indicators.
Following the ACT Workshop in April 2014, a National Working Group was formed to act as a steering committee to move the National Action Plan forward in efforts to improve the efficiency and effectiveness of care along the SCI continuum. The next meeting will be hosted on November 26.
Acces to Care and Timing
Updates on the National Working Group and Focus Issue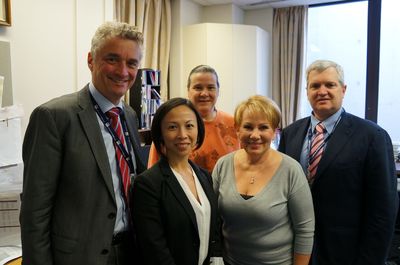 Members of the Vancouver and Australian ACT project teams (L-R):
Michael Schuetz, Christiana Cheng, Susan Urquhart, Lise Belanger, Richard William.
The Access to Care and Timing (ACT) project is a Canadian multi-centre research study focused on improving the timeliness and quality of acute and rehabilitation care for individuals with traumatic spinal cord injury (tSCI). A simulation model was developed to model the processes of care from the time of injury until discharge into the community – this model will then be used to optimize patient flow through the complex care system, with the goal of maximizing quality and efficiency of care.
The ACT project team is working with the National Working Group to develop an action plan. This action plan will guide next steps for the ACT project and development of the ACT Focus Issue which will be a collection of peer-reviewed articles. Articles will cover the initial stakeholder engagement meeting in December 2009 where strengths, constraints and perceived barriers with the existing system for persons sustaining a tSCI were identified, through to the final study dissemination workshop that took place in April 2014 which engaged the original stakeholders along with administrators, policy makers, consumers and SCI organizations across Canada to discuss implementation of the ACT Model V1.0 and future directions.
RHI is also exploring opportunities to work with partners in Australia, the United States and Europe to identify opportunities to use the ACT Model V1.0 and translate the methodologies to inform care delivery. RHI recently visited Princess Alexandra Hospital in Brisbane Australia and will be working with Drs. Michael Schuetz and Susan Urquhart and their research team to implement the ACT project at that hospital.
---
National SCI Meetings & RHSCIR Publications
National SCI Conference summary and updates on RHSCIR publications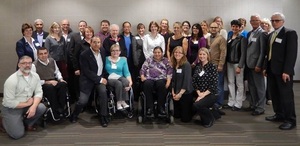 Participants of the Canadian Pressure Ulcer Strategy Meeting held in October.
The National SCI Conference, hosted by Toronto Rehabilitation Institute this past October, was a wonderful opportunity to connect with the network, and several meetings were held in conjunction with the conference including a national collaborative meeting on the Canadian Pressure Ulcer Strategy with experts from across Canada; a Walking and Standing RHSCIR 2.0 module meeting with the development team and clinical leads from the eight RHSCIR sites involved; a meeting on the Self-Management Program for SCI, co-led by Drs. Dalton Wolfe and Susan Jaglal; and a meeting to discuss male fertility after SCI bringing together experts from BC and Ontario. Thank you to everyone who participated in these meetings. RHI and its partners were pleased to present a number of posters at the National SCI Conference. Of note, members of the RHSCIR network received third place in the "Patient Care" category for their abstract on the importance of time to surgery for traumatic SCI patients which was presented by Dr. Henry Ahn, of St. Michael's Hospital, Toronto. The work on thsi project was recently accepted for publication in the Journal of Neurotrauma and is available in an open access format on the journal website. This work represents the largest cohort of SCI patients studied to date to help elucidate the role of early surgery after SCI, one of the most discussed topics in acute SCI management.
[ Project Profile ]
Minocycline study commences in Australia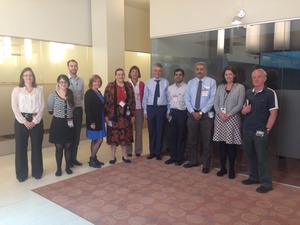 Members of PAH's Minocycline team (L-R): Cecile Francis, Yolanda Scuderi, Wade Stedman, Julie Cochrane, Susan Urquhart, Leslie Love, Michael Schuetz, Anand Krishnan, Sridhar Atresh, Esther Jacobson, Rob Eley.
In August, Princess Alexandra Hospital in Brisbane, Australia, became the first international site in RHI's Minocycline multi-centre clinical trial on individuals with acute SCI. Minocycline is a common antibiotic used to treat acne and other bacterial infections but has also demonstrated neuroprotective properties by minimizing inflammation and secondary damage to the spinal cord immediately after injury. Led by surgeon-scientist, Dr. Steve Casha of the University of Calgary, the multi-centre trial will assess the efficacy of minocycline in improving neurological and functional outcome after acute non-penetrating traumatic SCI.
In addition to the Australian site, Canadian sites are located at the following facilities:
Foothills Medical Centre, Calgary, Alberta
University of Alberta, Edmonton, Alberta
Royal Alexandra Hospital, Edmonton, Alberta
London Health Sciences Centre, London, Ontario
The Ottawa Hospital, Ottawa, Ontario
Queen Elizabeth II Health Sciences Centre, Halifax, Nova Scotia
RHI Consumer Program Research Listing
Submit your SCI research study
RHI's Consumer Program aims to engage people with SCI in the research process by improving awareness of SCI research knowledge and value, and enhance opportunities for people with SCI to make evidence-based health decisions.
As part of the Consumer Program, RHI is developing a web page dedicated to promoting SCI research studies and providing an up-to-date listing of studies that are currently recruiting participants. We encourage researchers to send us any relevant studies and we will post them on this web page.
To submit a current SCI research study, please contact Jocelyn Tomkinson, Consumer Engagement Lead at .
To learn more about RHI's Consumer Program, read our one page overview: Empowering People with Spinal Cord Injury.
[ Consumer Program Spotlight ]
Working 2 Walk Science & Advocacy Symposium
RHI was pleased to be a sponsor of this year's Working2Walk – a one of a kind grassroots science and advocacy symposium hosted by Unite 2 Fight Paralysis, a not-for-profit organization. Their mission is to unite and empower the international spinal cord injury community to cure paralysis through advocacy, education and support for research. Ten RHI and consumer advisory board members attended the conference to participate and talk with leading researchers, consumers, clinicians and advocates. In addition, RHI sponsored four individuals with SCI or their family members to attend through travel grants.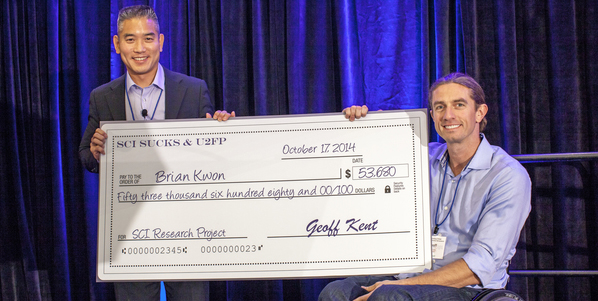 Photo courtesy of Unite 2 Fight Paralysis.
RHI's Cure Advisory Committee Chair, Dr. Brian Kwon, spoke at the conference on his latest work on "Biomarkers for Crossing the Translational Divide". After the talk, Geoff Kent from SCI Sucks, presented Dr. Kwon with a donation for $53,000 from SCI Sucks and Unite 2 Fight Paralysis (pictured right) to provide additional funding for the project which assembles expertise in proteomics, metabolomics, lipidomics, genomics, analytical chemistry, computer science, bioinformatics, biostatistics, and data management. The project was reviewed and recommended by Unite 2 Fight's Scientific Advisory Board.
To learn more about Working2Walk, visit www.u2fp.org/.
Network Member Publications
Craven, B. Catherine. Spinal Cord Injury: A Manifesto for Change. October 2014. A follow up to RHI's Rehabilitation Environmental Scan Atlas, this publication focuses on three critical areas - pressure ulcers, fractures and heart disease - and is a call to action for health care providers and stakeholders to work in coordination to improve care and health of people living with SCI.
Noreau, Luc et al. Community Needs and Outcomes in Long-standing Spinal Cord Injury: Results from the Canadian SCI Community Survey, Topics in Spinal Cord Injury Rehabilitation. 2014;20(4):249-345. This issue includes a number of articles resulting in the work from the RHI-funded study, the SCI Community Survey - the largest of its kind ever conducted on the needs of Canadians with SCI. Topics include secondary complications, employment, quality of life and health care utilization.
---
Upcoming Conferences
4th Joint Meeting of ISCoS and ASIA, May 14-15, 2015, Montreal, Quebec.

Submit an abstract or workshop by December 15, 2014.

www.iscosmeetings.org.
---
Independent Mid-Term Review
You may recall a brief update about RHI's mid-term review in the October 2014 edition of the CEO Update.
The review is underway. A Project Review Committee is being formed to provide oversight to the review process; and the consultants contracted to implement the evaluation will soon be finalizing the work plan. It is anticipated that key informant interviews and/or focus groups will be conducted during the data collection phase, sometime in January-February 2015.The dates will be confirmed once the work plan is finalized. Members of RHI's clinical and research network may be asked to participate.
We welcome your enquiries about this review. Please contact Janet Mou Pataky, Evaluator at